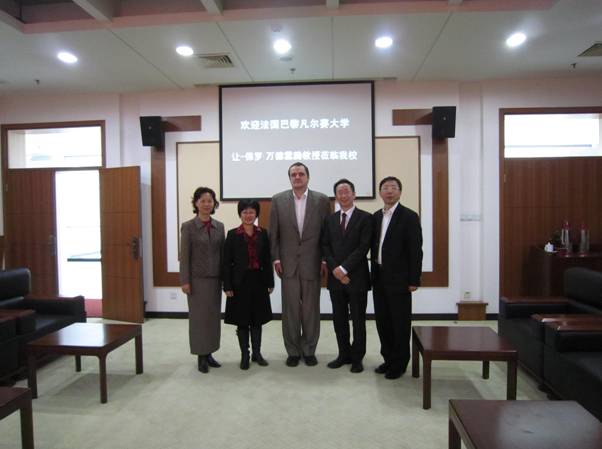 On December 1 morning, Professor Paul Wan Delin, Associate Dean of graduate school at University of Versailles Saint-Quentin-En-Yvelines, Paris, France visited school of continuing education, Shanghai Institute of Technology. Dean Chen S.H. and Party secretary Ms. Lu L. L. warmly welcome Professor Paul Wan Delin and the delegation at SIT.
During the meeting, Dean Chen introduced SIT's vision and mission and current programs and Professor Paul Wan Delin also introduced UV's vision and mission and the subjects and programs with competitive advantage in the world. In addition, Professor Paul Wan Delin and Dean Chen also discussed possible collaborations of undergraduate level programs between two universities in the future. Later on, Professor Paul Wan Delin gave a talk to the students for introducing the University of Versailles and also interacted with the students here.
In the afternoon, Professor Paul Wan Delin and the delegation visited the SIT's main campus, and Vice President Liu Y.L. met the visitors from France. Vice President Liu and Professor Paul Wan Delin talked about SIT and UV's international cooperation plans. Both sides expressed good willingness to work together to move forward the collaborations between two universities. By end of the meeting, both sides exchanged gifts and took pictures for this meaningful visit. In addition to above, the Deans from innovation college, chemical and environment college, civil and security engineering college, EE college at SIT also discussed with the delegation for the possible cooperation at graduate level programs. In the final stage of the visit, the delegation visited SIT's Innovation Engineering lab and highly regarded that the SIT's teaching model is well fitting the internationalization and look forward to having specific cooperation programs with the SIT in the near future.