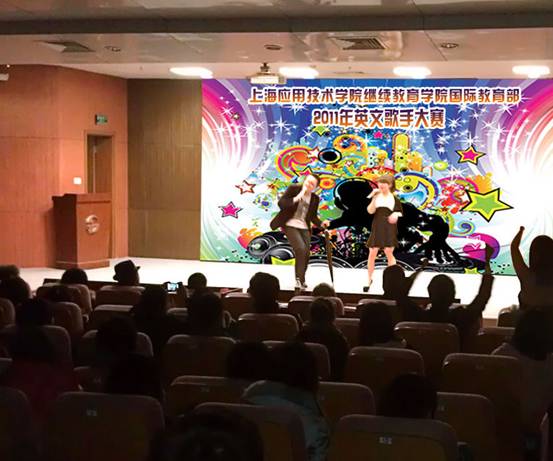 In order to enrich the campus life and to better display students' personal style and artistic skills, on the evening of December 19, 2011, the school of continuing education international program held the annual "English Singing Contest" in an auditorium in south campus.
The contest was supported by staffs and students. After the one-week primary selection, 13 students entered into the final round. One first-prize, two second-prize, three third-prize and seven "excellence award" have been selected by the judging committee which including four Chinese teachers and four foreign teachers. Student Wang YiZhong from the class 2011 won the first place for his wonderful classic love song "I need you tonight", Liu Xuanni from the class 2010 and Chen Qian and Zhuang Lichen from the class 2011 won the second place for their warm cheerful song and dance performances. Under the students' "strong demand", Chinese and foreign English teachers performed a wonderful English song. At the end of the contest, Mr. Wang Jinming awarded prizes for winners. The contest was imbued with joy and warmth, distinctive performance brought climax one after another.
The English singing contest provided students a growth stage and built platform to promote the learning. All teachers and students have gained a lot from this contest. We are looking forward to having more exciting things in this coming year.