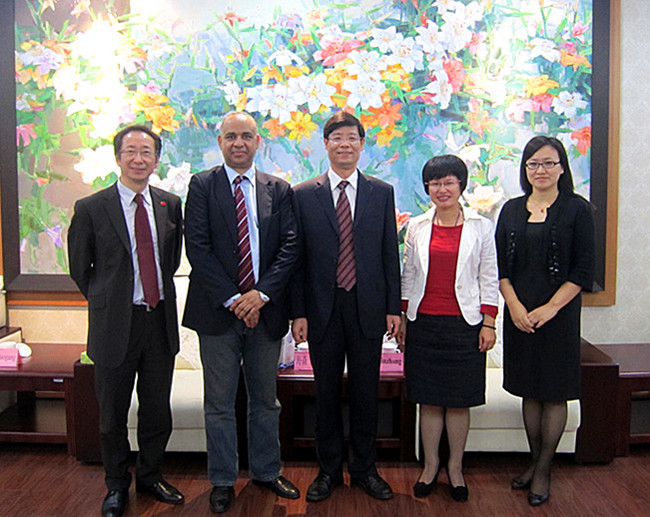 Dr. Ye Yinzhong, Vice President of SIT, along with Ms. Chen Shuhui, Dean of Continuing Education College and Ms. Wang Ying, Director of Dept. of International Cooperation, met Dr. Hassane Sadok, Vice President of University Bienevenue on the afternoon of October 26, exchanging views on the further expand cooperation of Sino-France Program.
Vice President Ye first gave Dr. Hassane Sadok his warm welcome. He said that SIT attached a great importance to international education and thought highly of the cooperation with University of Bienevenue. He suggested that China and France should enhance the communication and exchange in education, building on the traditional friendship between the two nations, so as to cultivate more outstanding students with bilingual background.
Dean Chen said that the Sino-France Program run by Continuing Education College had always been a good one with the diligent staff and excellent teachers both from France and China.
Dr. Hassene Sadok expressed his appreciation for the warm hospitality, saying that he was impressed by SIT's beautiful Fengxian Campus. Having learnt the Sino-France Program has doubled its size this year, he expressed the hope that this program would grow bigger. He noted that the University of Bienevenue appreciated this program a lot and intended to send French students to come to SIT to learn Chinese culture and the language.
After the meeting, Dr. Hassene Sadok was shown around the Xuhui Campus with the company of Dean Chen. He visited the office and the teacher's lounge, as well as the classroom and talked with the students of Sino-France program.